Echo Loop, MAAS, & Future TRAVEL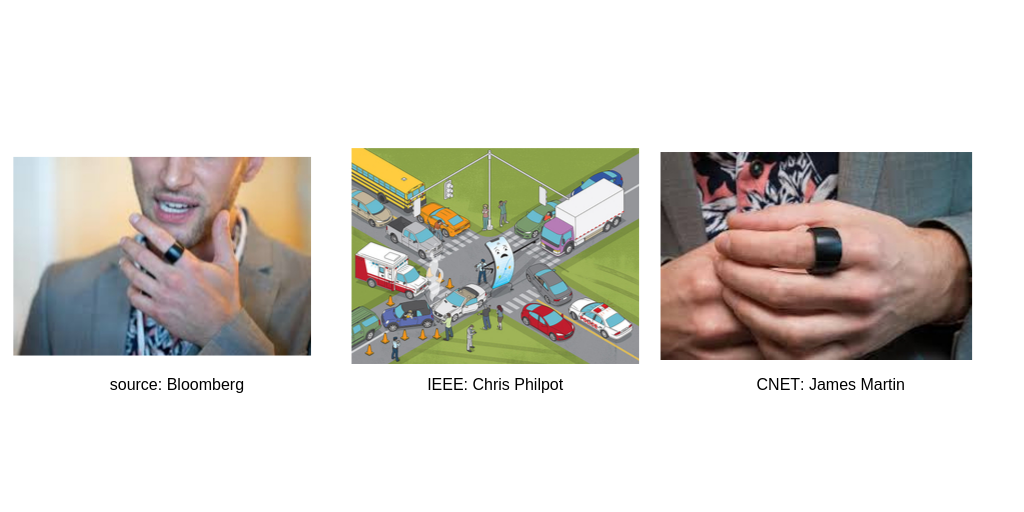 When Amazon introduced a novel pinkie ring that activates Alexa through voice commands, they probably didn't consider its historical significance. The smart ring, called the Echo Loop, is the pinnacle of new technology.
It will take a while for the Echo Loop to become mainstream, but like an earlier wearable, namely the wrist watch, it is a game changer. It has the potential to manage transportation, reduce our reliance on smartphones, and unleash a torrent of connectivity. It will spur Mobility as a Solution (MaaS) because it is convenient and familiar.
TRAIN TIME
Many inventions, such as the wrist watch, first emerge as toys or novelties. Initially, pocket watches, "told much about a gentleman, with regard to his social standing and his place in society." It was considered a faux-pas to check the time by pulling out a pocket-watch (on chain) in mixed company. The pocket watch was as an object of discussion, a status symbol, and a luxury item.
The utilization of this device began to change as more countries developed large national rail networks. In the beginning of rail transport, every city, town, and railroad had their own timekeeping, leading to many train accidents. England adopted "railway time" in 1848 and in 1884 Greenwich Meridian Time became the universal standard. Still, it took a deadly U.S. crash in 1891, the Kipton Train Disaster, to lead to precise engineered devices here.
THE FIRST WEARABLE
During World War I supply truck drivers and aviators often received orders with strict time frames to help synchronize military actions. These men needed timepieces that would let them keep both hands on the controls and check the time. Hence, the wristwatch was improvised and its popularity skyrocketed.
I believe we have reached a similar technological transition today. In our vehicles, smartphones help optimize route-taking and navigation. However, drivers with hand- hold phones are at 2 to 3.5 times greater risk of accidents than those with hands-free, voice-activated devices.
ENTER ECHO LOOP
This is where the next stage of technology, an Echo Loop ring, will come into its element. CNET reported that the September, 2019 debut of the Echo ring had people scratching heads and wondering what they would do with it….
"Yet to be discovered" is the potential to make travel planning "screen-free" and simultaneously provide more personalized and up-to-date information through integration with the transportation network. MaaS (mobility as a service) awaits a better technology to become mainstream.
MaaS IN A LOOP
The goal of MaaS is to organize seamless fare payment and to integrate timetables and modes. In today's schema, MaaS combines transportation options from public and private sectors and provides a trip-taker with a customized travel 'solution' for each journey. For example, a commuter might take a trip by ferry boat, then get directions to walk to a bus stop, and complete the final leg to the office with a scooter or rideshare. All of these activities, including the booking and payment are handled through a single account.
Currently mobile phones are the mechanism for creating a multi-modal MaaS trip, but this medium has significant drawbacks. The trip-taker must carry a smartphone and its voice activated commands are likely to be incomplete, and in some cases, unsafe. MaaS, via smartphone, requires a lot of swipes and RFID communications to stitch together a single trip.
ADVANCED JEWELRY
Advanced "jewelry" (the wearable), can bring calm to this endeavor. Imagine that the Loop would function like a wrist watch, executing in the background but behave more like an experienced, helpful companion who knows the route and can enliven it with conversational detail.
Like the watch the Loop would clarify when to leave for the next ride, how much time to wait on the platform. The ability to perform, and speak customized travel planning will reduce the reliance on screens.
Unlike a wristwatch, a Loop could check for delays or changes, and give dynamic step by step directions. It might also reduce congestion by balancing supply and demand, and help make more efficient use of the network.
And, through the voice commands, it could perform the duties of a personal assistant and reach out to the people or activity at the end of the journey.
LOOKING BACK…LOOKING FORWARD
Time-pieces, as you will recall, helped lay the groundwork for railroads. If this playbook still holds, then the smart ring, today's novelty and luxury item, may become tomorrow's facilitator for a better MaaS, and a transformed means to travel.