The ProvisionAL PHONE NEEDS TO SLOW US DOWN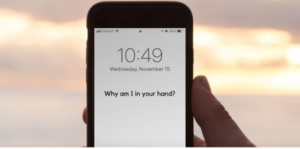 The social speed of information is awesome…but it is also dangerous for beginners.

For most of history, messages traveled at about the same speed as a person or animal could walk. The pony express, courier pigeon, and smoke signal incrementally hastened delivery but it is the telegraph that truly disrupted the speed of travel.

Morses' telegraph machine, invented in 1837, was the first time that messages moved faster than the sender. Communications sent via telegraph, and later via phone, sped from person to person. Today, the internet brings equal or faster speeds with an entirely new dimension. Accelerated messaging travels from a single sender to large groups or collectives; in other words, less person-to-person and more person-to-mass media.

The communications impact is momentous. In this article we consider the virtues of "speed control," a continuation of our discussion on phones and provisional learners.

A Cue from Driver's Education:
First, we take a cue from driver's education. We need to equip a beginner's phone with software that encourages new users, usually tweens, to bring focus and attention. Useful software should discourage them from jerky, impulsive communications. It should function like a "parental voice" at the back of a tweens head, helping them to find balance between novelty and risk.

This is done for us when we drive on the road. Legal speed limits keep us in check and make the driving experience predictable. The posted speed sign anticipates the geometry of the road to prevent accidents. There is no analogous criterion for engaging with electronic media like Instagram, Facebook, and Tumblr.

Software that slows down tweens has merit. Imagine if there was a ten second delay from the time that a tween posts something to the time that it gets sent out on social media. A pop up might say: "Are you sure that you need to post this? Would you post this if your parents or teachers could read it? Will you want this post discovered five years from now?"

A ten second delay is not a long time, but would help overcome the impulsiveness of young people.

Cutting back the Multi-task:
A second way to slow down the phone is to design hardware that reduces the ability to multi-task. This is helpful, for while brains are fast, the cognitive ability to stay focused and alert is not. Teens and preteens would be well served if their phones could run only one app at a time. As an example, using GPS for navigation would then disable phone calls and texting. A slower phone is a safer one.

When we drive, there are external messages that prompt us about speed. Standardized road signs and electronic message boards post legal speed limits, but the speed limit changes with bad weather or road work. Electronic media need to have their own message board: perhaps not a weekly summary of our time online, but a countdown of when we started, and the elapsed time.

Niklas Goke, the writer, asks why phones can't be designed like toothbrushes. While essential, phones should be simple and not trigger us to continually be picked up. He proposes a number of useful tips that can be applied to provisional phones. One of them is the common-sense screensaver that displays the current time and the message "Why am I in your hand? (see image above). at School & Home:
Slowing it Down at School and Home:
A third way to slow down the phone, of course, is external: parents and educators can set time of day restrictions. Around the world, a number of school systems do this: among them, France, Israel, and Australia (NSW). Parents need to set their own standard, using apps that compile their time online, or require that that teens' phones be placed face down on the kitchen table at bedtime.

We live in a time when speed, phones, and the ability to act are co-mingled. Speed will increasingly be the key to manage the Internet of things and future autonomous vehicles but in person- to-person relations it can be a detriment.

We need distance from our phones to reflect on the message content, be kind to others, and make better decisions. So, slowing down the phone…a vital facet of the provisional phone…. is about matching the pace of technology to a young person's moral and emotional development. A provisional phone with speed settings is a useful stop.