Can Rideshare Reduce Social Isolation?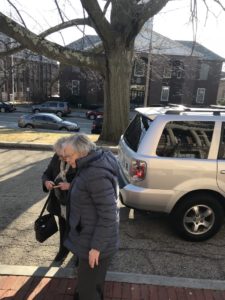 Does Rideshare Help Lonely Seniors?
Why do older people drive for Uber and Lyft? Many young people are surprised when the driver that show up looks like their parent. The Rideshare Guy did a survey in 2017 and reports that 30% of the drivers were over age 51 to 60 and 25% were over 61!. Previously, Uber has reported that 25% of their drivers were over age 50. When you ask drivers why they are on the road, they mention mixed motives. In part, they hope to pick up some extra income, and in part, they say that they want to get out, meet people, and have conversations.

Socially Isolated and Transport
This past week the National Academies announced that nearly one-quarter (a coincidence of numbers) of those over 65, and living in community settings have few social relationships and infrequent social contact. There is a call for the Department of Health and Human Services to start a national resource center to do research and interventions.

This new center is unlikely to be located in the Department of Transportation (DOT) and it is even more improbable that there will be collaboration with the two big ride hail companies, Uber and Lyft. But, as many older drivers, and their passengers will attest, ride hailing is a lifeline for older people, particularly those in their seventies and eighties.

The medical field is taking note that that seniors who stay mobile also stay connected. A three month clinical trial at The University of Southern California found that 150 people given access to free rides made their more active in their own care, as well as in other areas of their life. In Brookline, Mass, we have an ongoing trial for seniors to take Lyft in lieu of taxis. The trial is not necessarily for health outcomes, although they are measured and the cost of most trips is subsidized.  Early responses (n= 26) suggest that seniors learn the app fairly easily, are very satisfied with the service, and plan to use rideshare more often to get around. About 40% of the trips are "new"- participants say were not possible before Lyft services. 

It's Instructional!
Some of these students had one on one instruction from TRIPPS but I personally lead larger classes that introduce seniors to rideshare. These students, generally ages 75 and above, are inordinately tuned in and motivated. The seniors come from all over, but our recent classes have been with those who live about ¼ mile from public transportation or in the suburbs.

The seniors tell us that they seek alternatives to drive alone trips. Over one or two 90-minute classroom sessions they are generally reassured that ride share will be like a taxi service, but safer, cheaper, and more dependable. But, it will use technology that taxis do not have to keep them aware and informed. The students are also reassured, despite the headlines, that the drivers will not be rogues or cowboys. We allay other common concerns, for example, that the drivers are exploited by the gig economy or that the cars clog the streets (mid-day).

Interestingly, we also encourage the seniors to try shared trips, primarily to bring down the cost of travel and make more efficient use of the roads. We have not considered (yet) whether the shared trip could be useful in helping people get out, see other people, and overcome their isolation even more.

With nearly 30 or 40 of these classes under our belt since 2016, I have a theory of why the seniors find rideshare to be so useful. Here is the slide that describes it:

Continuity Counts
it is the third C- the continuity, that is the key. The convenience and cost of rideshare are integral factors, particularly for seniors who are accustomed to having a car in the driveway, ready at all times. For those who take taxis, they find that service to be increasingly expensive and undependable. But, it is Continuity they relate to best.
This generation of seniors who are age 75 and above are changing from than the ones that Foley and his colleagues described when they scanned the status of senior transportation in the US in 2002. The current generation of seniors have owned personal cars most of their adult life, and travel by auto is weaved into their daily lifestyle. Normal activities like shopping, going out to restaurants, getting to the airport or train station, and even stepping out for a walk or recreation, begin and end in a vehicle.

Based on decades of SOV (single occupancy vehicle) travel, these seniors are reluctant to use public transportation, even if they are able and have access. Although the cost of a travel ticket is low and subsidized at senior rates, they tell us that they feel unsafe on buses or trains. Novice riders fear the steps to board and worry that they will take a fall. Convenience is also a mitigating factor. Seniors who are accustomed to driving, find it untenable to walk to the transit stop, wait, ride, and then make one or more transfers to reach their destination. They learn that public transportation is not door-to-door, like their car.

In our classes for seniors we like to emphasize that Uber and Lyft can be used to reach public transportation for the first and last mile but it is probable that they are using rideshare for the full trip.

Why the full trip? Uber and Lyft feel 'familiar' to these seniors. Some say it is an even better experience, because it brings a four-door vehicle with a chauffeur. The law of familiarity is, of course, a psychological principle, not a law. But, it suggests a heuristic that seniors who have cars are also likely to favor rideshare. Patterns are important for new learning, and people have greater awareness and attraction towards those things that they have already experience. In this case, it's four wheels and door to door convenience.

Driving the Choice
There are other factors that drive the choice to use Uber or Lyft: seniors have less worry about their health, taking medications that compromise their driving, or vision loss at night. For some, it is a relief to worry less about car insurance and maintenance. But most seem to hold on to their cars if they can- it is a prized possession they have worked for, and they enjoy the occasional outing they still take as a driver or passenger.

So, asking older people who live in near-in suburbs to give up car transportation is akin to cutting off one of their limbs. It is painful, and they do not immediately imagine, or comprehend, that they can function beyond it. Yet, there does come a point where many people are no longer safe on the road. And that can bring a decline in well-being and the ability to interact with other people, particularly when adult life has been structured around getting out, going places, and engaging in far-flung activities.

Until recently, rideshare has been the province of younger people. Having a smartphone is often not the issue, since about half (53%) of people 65 and older are smartphone owners. Smartphones are not the impediment….it is deeper. In the next installment of this blog (March 2020) I will dive into that.